slim
samen
werken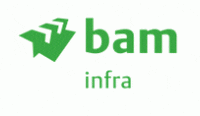 Bam Infra
Website: http://www.bam.com
Vraag
BAM wilde de Scrum methodiek meer verspreiden binnen de organisatie om de standaard aanpak voor het realiseren van tunnels te verscherpen. Omdat het project al was opgestart, was het van belang om de Scrum methodiek zo snel mogelijk in te voeren. Hierbij moest er ook aandacht geschonken worden aan de verschillende rollen binnen de Scrum methodiek.
Onze dienstverlening
Wij hebben gekozen voor een aanpak waarbij er ook al direct een aantal producten zouden worden opgeleverd (zoals een Product Backlog, stakeholderanalyse en implementatieaanpak). Wij stelden voor om enkele medewerkers een trainingsdag/workshop dag te geven. Het doel van de deze dag was basiskennis van Scrum overbrengen, enthousiasme voor Scrum te creëren en resultaten op te leveren waarbij direct de eerste stap in het Scrum project werd gerealiseerd. Deze dag zag er dan op hoofdlijnen als volgt uit:
Introductie Scrum
Product vision (stip op de horizon) voor het project formuleren
Stakeholderanalyse opmaken
Eerste versie Product Backlog opstellen
Hoe Scrum implementeren:
Team samenstelling, sprintduur, sprintintensiteit, faciliteiten
Inpassing Scrumproject in bestaande programma-/projectstructuur, planning
Projectsturing & governance
Transitie van huidige projectaanpak naar Scrumaanpak
Na het afronden van deze dag waren concreet de volgende producten opgeleverd:
Product vision
Product Backlog (eerste versie)
Stakeholder analyse
Transisitieplan (op hoofdlijnen)
Implementatieplan (op hoofdlijnen)
Consultant
Renze Klamer
Benieuwd wat we voor jouw organisatie kunnen betekenen?
Vraag naar de mogelijkheden via e-mail: info@agilescrumgroup.nl of telefoon: 020-2614195 of vul hier het contactformulier in. We helpen je graag.