slim
samen
werken

Op 8 december 2022 organiseren wij een webinar over het onderwerp Design Thinking.
Wil jij je aanmelden? Onderaan de pagina staat een inschrijfformulier.
Wat is Design Thinking?
Design thinking is een iteratief proces dat door organisaties wordt toegepast om te kunnen innoveren. Fundamenteel in Design Thinking is het ontwikkelen van een diepgaand begrip (empathie) voor de mensen voor wie we producten of diensten ontwerpen. De empathische aanpak leidt tot een beter begrip en inzicht, van waaruit bestaande aannames kunnen worden uitgedaagd en problemen opnieuw kunnen worden gedefinieerd.  Door deze kennis voortdurend te evalueren ontstaan er nieuwe inzichten en kunnen er alternatieve strategieën en oplossingen worden gevonden.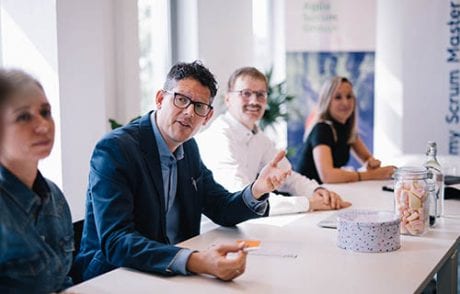 Programma
Er wordt op dit moment hard achter de schermen gewerkt om een goed programma in elkaar te zetten. Deze zal binnen enkele weken gepubliceerd worden. Wat je kan verwachten is een combinatie van theorie en interactie en veel praktijkvoorbeelden. Het webinar is van 9:30 tot 12:00.
Praktische zaken
Een dag voor het webinar ontvang je via de mail de zoom link om deel te nemen. Verder raden wij aan om een stabiele internet verbinding te hebben en het webinar te volgen via een groot scherm (tablet of desktop)
Locatie
Dit webinar zal online via ZOOM plaatsvinden.
Inschrijven (gratis)
Inschrijven kan gratis via onderstaand formulier. In verband met de gebruikte werkvormen tijdens het webinar stellen we het op prijs dat je je afmeldt als je onverhoopt toch niet kunt deelnemen.
Het webinar zal erg interactief zijn, om die reden verzoeken wij je om tijdens het webinar je camera aan te zetten.